Second circular

RADON v.o.s. and Czech Geological Survey organize the




12th INTERNATIONAL WORKSHOP GARRM

(on the

GEOLOGICAL ASPECTS

OF RADON RISK MAPPING)

September 16th – 18th (19th), 2014

Prague, Czech Republic

+ RIM – Radon Intercomparison

Measurements at Radon Reference Sites

September 15th, 2014





ORGANIZING COMMITTEE:

Workshop: RIM:

Matej NEZNAL (RADON) Milan MATOLIN (Charles University in Prague)

Ivan BARNET (CGS) Martin NEZNAL (RADON)

Petra PACHEROVA (CGS)

IMPORTANT DATES AND DEADLINES

Second announcement March 2014

Deadline for paper submission June 15, 2014

Deadline for lower registration fee June 15, 2014

PROGRAMME

September 14th (Sunday) – Registration for RIM (17,00-19,00)

September 15th (Monday) – Registration for RIM (8,00-9,30), Field Measurements

Registration for Workshop (18,30-20,30)

September 16th (Tuesday) – Registration for Workshop (8,00-9,30), Sessions

September 17th (Wednesday) – Sessions, workshop dinner

September 18th (Thursday) – Sessions, Roundtable discussions, conclusions

September 19th (Friday) – Field excursion, optional




WORKSHOP GARRM - GENERAL TOPICS

NATIONAL STRATEGIES, RADON ACTION PLANS, APPROACHES TO RADON RISK

RADON RISK MAPPING ON VARIOUS SCALES (INCLUDING GEOGENIC MAPPING, DETAILED MEASUREMENTS)

METHODS OF MEASUREMENTS, CLASSIFICATIONS OF RADON RISK

INDOOR RADON – FACTORS INFLUENCING RADON ENTRY INTO HOUSES AND INDOOR RADON CONCENTRATION

PREVENTIVE MEASURES AND REMEDIATION (INCLUDING REGULATIONS, BUILDING CODES)

RADON MEASUREMENTS FOR OTHER PURPOSES (EARTHQUAKE PREDICTION, RADON AS A NATURAL TRACER, MINING AREAS, URANIUM PROSPECTION)

Due to our common experiences from last workshops, we would like to ask you for oral presentations (15 min) or posters.

For the closing day of the workshop, we would like to prepare meaningful roundtable discussions (probably two parallel each time), where we would discuss following questions:

EUROPEAN GEOGENIC RADON MAP AND ATLAS OF NATURAL RADIATION;

RISK COMMUNICATION, EDUCATIONAL EXPERIENCES;

RADON IN SOIL GAS – SUITABLE METHODS OF SOIL GAS SAMPLING, INTERCOMPARISON MEASUREMENTS.

With respect to future cooperation and preparation of research projects proposals, participants are kindly asked to propose other topics for discussions.


VENUE

The conference will be held in the beautiful city of Prague, capital of the Czech Republic, at the conference hall of the Hotel DAP (the same as in 2010 and 2012). The hotel is located in the western part of central Prague, near the Prague Castle, the dominant symbol of Prague, in the direction to the Ruzyne airport, close by to the Dejvicka underground station (line A). It is also well served by tram and buses. The best way to reach the venue from the airport is to use the bus No. 119, which goes from the airport (it has a stop at terminal 1 and 2 as well) to the mentioned Dejvicka underground station.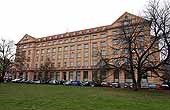 Hotel DAP
Vitezne sq. No. 4/684, 161 00 Prague 6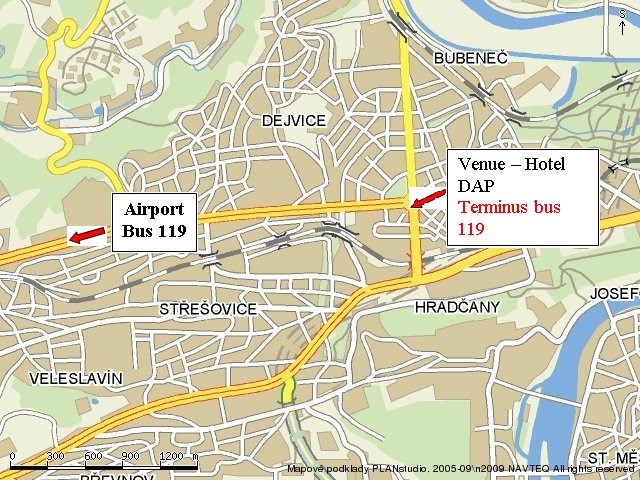 ACCOMMODATION

On site accommodations (i.e. directly at the Hotel DAP, medium/low price) is possible but limited in number to 80 - 90 participants. See

www.daphotel.cz/index.php?/english

For more information please contact Mrs. Steinertova, the representative of Hotel DAP,
e-mail: steinertova@vkp.vlrz.cz , and mention "radon workshop"

The direct neighbourhood has also a large number of excellent hotels, pensions, hostels, which you can find via internet (we recommend to concentrate on accommodation in the central parts of Prague – Prague 1 and/or Prague 6).

RIM 2014 - GENERAL INFORMATION

Compare your radon measurement with the international community in friendly field environment - comparison measurement of radon in soil gas at radon reference sites in the Czech Republic

Radon comparison measurement at reference sites in the Czech Republic, RIM 2014, will be organized as an independent part of the International Workshop on the Geological Aspects of Radon Risk Mapping on September 15th, 2014. Comparison measurements at reference sites serve for verification of field radon measurements performed by single organizations.

The intercomparison measurement will be organized at two reference sites (chosen from three reference sites established in 2000, located 60 km SW of Prague near the city Milín in the Czech Republic, accessible for cars). Radon reference sites are situated on meadows, their soil cover enables soil gas sampling at the depth of 0.8 m, and their mutual total distance is 12 km. Transport from Prague will be provided as well. Each reference site implies 15 stabilized stations in a grid of 5x5 m.

Radon comparison measurements at reference sites are organized for single participants or groups of participants. Results of tests will be anonymous, each participant (group) will be denoted by a code.

During this RIM we would like to focus not only on comparison of resulting soil-gas radon concentrations, but on the sampling methods themselves.

Benefits of participation in radon comparison measurement are:

Radon comparison with international expert community.

The use of two well documented radon reference sites fulfilling geological requirements.

Based on more than 20-year experience in periodical radon comparison measurement 1992-1999, and 2000-2013.

Tests by computer programme TestMOAR based on statistics, compiled by the Institute of Applied Mathematics and Computer Technique, Faculty of Science, Charles University in Prague.

Working plan for the comparison measurement: Instruction, transport from Prague (if necessary), measurement of radon in soil gas, reporting of resultant data (kBq/m3) from measured stations. Data processing and evaluation by TestMOAR will follow after all participants provide the data. For those who will collect a lower number of measurements at reference sites, programme TestMOAR accepts their number of data. Organizations and individuals who will deliver their resultant radon data later (by post or e-mail) will be also included in final testing.

There is no electrical power supply at radon reference sites, however an electrical power supply will be provided on the request.

Accommodation: Please, take into consideration, that "only" one–day intercomparison is hold this year. Suitable accommodation, just in the area of radon reference sites, is available in "Hotel u Milina" (www.hotelumilina.cz), but there will be certainly a possibility of transport from Prague.

Organizers of the RIM 2014 offer the consultation for your participation in radon comparison measurement through e-mail address matolin@natur.cuni.cz or neznal@clnet.cz or radon@comp.cz

More detailed information will be available at the workshop webpage, details will be discussed with all participants of RIM via e-mail.

Workshop field excursion

Workshop field excursion will be organized on Friday at the end of the workshop (an optional activity with a special fee).

Expected time of departure – Friday, September, 19th, at about 8,30 in the morning; expected time of arrival to Prague - Friday, September 19th at about 20,00 – 21,00 in the evening.

More detailed information will be available at the workshop webpage and during the registration.

REGISTRATION FEE and INSTRUCTION for PAYMENT

The registration fee for the workshop (360 € if paid after June 15, 2014, 310 € if paid before) covers the workshop program, the book of abstracts, refreshments during the sessions and the workshop dinner. Accommodation is not included in the registration fee.

The fee for the field excursion – optional activity – 85 € if paid after June 15, 2014, 70 € if paid before) covers the whole excursion.

T

he fee for RIM – (280 € if paid after June 15, 2014, 240 € if paid before) means a fee for an independent participant or for two participants in one measuring group. The fee for each another one (third, fourth ..., participant in the same measuring group) is 50 €. Accommodation is not included in the registration fee.

In order to confirm your registration, a proof of payment (photocopy of bank transfer) should be sent to RADON v.o.s. (via e-mail: radon@comp.cz ), accepting the given conditions of payment and cancellations. Participants are kindly asked to indicate clearly the name of the person for whom the services are booked in the bank document sent. Payments can only be accepted in Euros. Only total payment guarantees registration, i.e. any bank expenses for issuing a transfer must be paid in full by participants.

Cancellation and requests for refunds should be made in writing and sent to RADON v.o.s.. Those made before 30 August 2014, will be refunded at 80 % of the original sum. After that date no refunds will be possible. All bank charges will be deducted from the refund. Refunds will be issued after the Workshop (15th October 2014).

Payment - by bank transfer (the payee name ... RADON v.o.s.)

The bank name: KOMERCNI BANKA

The bank address: POBOCKA PRAHA - PODVINNY MLYN

EXP. PALMOVKA,

ZENKLOVA 12/351

180 00 PRAHA 8

CZECH REPUBLIC

Account number: 35-6485850237/0100

Swift (BIC): KOMBCZPPXXX

IBAN code: CZ9501000000356485850237

Var.symbol/details of payment: 340114

There would be also a possibility to pay cash at the registration, but those participants should also send us the registration form in advance (the number of participants, especially in case of RIM and the field excursion, is limited!).

CALL FOR PAPERS AND INSTRUCTIONS FOR AUTHORS

The language of the conference will be English.

Authors are kindly asked to send their contributions (extended abstracts) as camera ready file, e-mail attachment (best in Word 6. or higher, for high quality print, black+white, A4 format, 2.5 cm margins on all sides). Please do not number the pages. The papers should not extend 10 pages including figures, tables and references.

Contributions (extended abstracts) should be submitted by the 15th of June, 2014. The volume of the extended abstracts will be made available during the workshop.

For further contacts, please, send us the registration form (via e-mail, fax, or – the easiest way - directly through the workshop webpage). Please fill in your e-mail with attention as it is the most effective way how to contact you (participants without e-mail will be contacted via fax or post mail).